Double Glazed Partitions Leeds
TEL: 0113 347 1984
Double Glazed Glass Partitions Leeds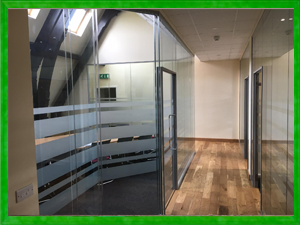 There's a lot to be said for the modern open-plan office. When you set up an open-plan space, workers can easily communicate with each other and work together. Plus, they can move around as needed. After all, in the modern age, an employee doesn't need to be tied to their desk all day.
However, there are some downsides to the open-plan too, as it's harder to really concentrate on tasks when there's so much going on around you. That's why many businesses are opting for double glazed glass partitions in Leeds for their offices. Here's why you should consider them for your office.
Keeping The Noise Out
The biggest reason to go for double glazed partitions is that they're perfect at keeping sound out. There are lots of times when you'll need a quiet space in the office. Perhaps you need to take an important phone call, have a meeting, or just get on with a task without being interrupted by noise as you do so. As great as the open-plan office is, the fact is sometimes you need a separate space to get things done.
As you would imagine, double glazed glass partitions in Leeds work in the same way as your windows. The double-glazed construction means that much less sound can make its way into the room you've created. It's such an easy way to create an extra room that has sound dampening capabilities and still allows people using it to be part of the office at large.
Glass Partitions vs. Walls
If you're thinking about creating extra rooms in your space, either to create meeting rooms or offices, you'd usually think that building walls is the answer. In fact, you do have another option too. Glass partitions function in the same way, but they have a lot of benefits over regular walls that you may not have even thought of.
Quicker and cheaper to install: As a business, you don't want to deal with the inconvenience of construction any longer than you have to. That's something all construction companies will keep in mind, but with walls, you'll be waiting a while to have them completed. A glass partition is much quicker to be completed, so you won't be dealing with construction for long. As a bonus, they're also usually cheaper to install too while still giving all the same benefits.
Allow light through: The biggest problem with installing walls in your office is that they block light. That's the last thing you want, as natural light is so much better for you and your staff. Double glazed glass partitions in Leeds will allow that light through, so you don't have to worry about the light getting blocked in your office.
A more modern look: The office can start to look tired and outdated quickly. That's something you want to avoid when you're inviting clients into your office space. After all, you want to make an excellent first impression. If you're finding that your space looks rather old, glass partitions can really spruce it up. It's amazing how much they can update an office and make it look brand new.
Place them anywhere: The joy of double glazed glass panels is that you can place them almost anywhere you can think of in your office. That gives you a lot more flexibility in terms of design. You can create breakout spaces right in the middle of the office, making it a feature. You can also place rooms around the perimeter of the space, without blocking light from windows.
Stay in touch with the office: Just because you need to get away from the rest of the office for a moment, doesn't mean you want to shut yourself away entirely. If you create rooms with full walls, you'll be cut off from what's happening around you. That doesn't happen with glass partitions, as you can still see out and see what's happening. That's good news for you, as you never have to be far from the action.
If you want to update your office, double-glazed glass partitions in Leeds are always the way to go. Get in touch now to see how they can be installed in your office.
Glass Partitions
Glass Partitions Leeds to add space and style to any building. Click Here For More
Office Partitions
Office Partitions Leeds creates the perfect work area exactly as you want it Click for more info.
Acoustic Partitions
Acoustic Partitions Leeds drown out that noise to make individual work or living spaces.
Glass Office Partitions
Glass Office Partitions Leeds let the light flow through for the perfect working space.
Switchable Glass Partitions
Switchable Glass Partitions Leeds your choice of open or closed at the flick of a switch.