Glass Partitions Leeds
TEL: 0113 347 1984
Do you need to change up the look of your office? Office design is so much more important than many think. With the right design, you can give an excellent first impression of your business. It also helps improve the productivity and happiness of your staff, so you can give clients the best possible service.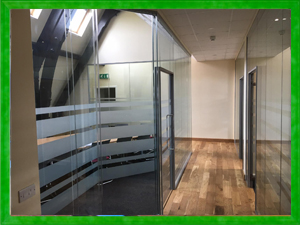 Knowing this, you'll be feeling a lot of pressure to create the best possible office design. How can you ensure you're creating a layout that gives you everything you need? Many business owners are turning to glass office partitions in Leeds to get the look they're going for. What is it that makes them the best option for you?
The History Of Office Design
If you've been in the workforce for a while, you'll have seen a few different popular office designs in your time. The office as we know it has been around since the 18th century and has seen a few changes. In the beginning, spaces were separated out for 'intellectual' and 'mechanical' work.
In the early 20th century, the very first open offices came about. These implemented rows of desks, with managers in offices encircling them where they could oversee work. This can actually be seen, in some fashion, in some offices today.
In the '60s layouts were changed to increase social interaction and help employees work together. Desks were grouped together rather than placed in rows, and plants were used as partitions.
After this, the Action Office began to emerge. This is where cubicles came from, as the design allowed for separate workstations where employees could work on their own, without interruption. As technology improved and employees were no longer required to be at their desks, open offices again became the norm.
Designing The Modern Office
With all this in mind, how should design your office today? All of these designs have their upsides, but no one design is perfect. The original open office treated the layout like an assembly line and ignored workers' needs. The cubicle farms of the '80s offered privacy and space to work, but no interaction. The modern open office gives staff the interaction they need, but it's not ideal for those that need to concentrate.
As you design your office, you'll see that it's best to have a mix of all these styles. Not all staff will work the same way, and you'll want different layouts for different things. For example, an enclosed room for meetings is perfect, but it may not be ideal for individual workstations.
This is why glass office partitions in Leeds are becoming so popular. They're allowing business owners to create spaces that work for them, customizing the look of the space and catering to the needs of their staff.
The Benefits Of Glass Office Partitions Leeds
Why should you use glass partitions in your office? Here are a few reasons why you should be considering them.
Let the light in: A regular partition blocks out light and is generally not welcome in office environments. When you use glass partitions, you can still let that natural light in without having to worry about where you place them. It gives you a lot more flexibility when it comes to design.
Keep sound out: Those partitions will keep the light in but keep sound out. That's perfect for anyone who needs to have a meeting without outside noise coming in, or needs to really concentrate on the task they're assigned to.
Be separate but connected: A glass partition really does give you the best of both worlds. You can work quietly in a partitioned space, but you won't be cut off. You can see the whole office through the partition, so you'll be in the loop should anything happen.
A more modern workplace: The glass partition will help you create a look that's very much at the cutting edge. Whenever you have visitors to your site, you'll need to create the best first impression possible. With glass partitions, you have the freedom to create an impressive layout that will help you achieve this.
That's only a few benefits of glass office partitions in Leeds. If you want to install them in your office, get in touch with us today. We'll help you make the most of your space.
Glass Partitions
Glass Partitions Leeds to add space and style to any building. Click Here For More
Office Partitions
Office Partitions Leeds creates the perfect work area exactly as you want it Click for more info.
Acoustic Partitions
Acoustic Partitions Leeds drown out that noise to make individual work or living spaces.
Glass Office Partitions
Glass Office Partitions Leeds let the light flow through for the perfect working space.
Switchable Glass Partitions
Switchable Glass Partitions Leeds your choice of open or closed at the flick of a switch.