Single Glazed Acoustic Partitions Leeds
TEL: 0113 347 1984
Single glazed acoustic glass partitions Leeds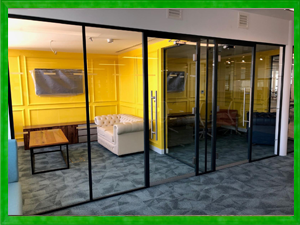 Every business is different, and so has different needs of its workspace. As you're considering developing your office, you'll need to think about what you and your employees will need. Do you need to be able to work in relative quiet, or do you need open spaces? What about meeting spaces and public areas? Whatever it is that you need, you'll need to look into single glazed acoustic glass partitions in Leeds. They can help you do almost anything when it comes to your office. Here's just a few ways you can use them.
Create Bespoke Meeting Rooms
Meeting rooms are one of the most common things businesses build with their glass panels. Even if you have an open office floor plan, you'll need somewhere where you can have meetings without bothering others around you. Glass partitions can be used to create these rooms anywhere you need them. The interesting thing about them is the amount of sound that they block out. With glass partitions, you'll be able to have those meetings without disturbing those working nearby.
The same goes for those working outside of the room, too. Whatever you're working on in that meeting room, you don't want to be interrupted. The sound of phones ringing and people talking can cause all kinds of problems, so being able to block them out is very helpful.
Make Individual Offices
Another common use for single glazed acoustic glass partitions Leeds is for individual office spaces. Open offices have become so popular partly because it's hard to work and collaborate with others when you're sequestered away from them. This is why the cubicle concept that was so popular in the '80s has gradually died out.
Sometimes though, you do need that individual space so you can get away and really get down to business. You don't want to be disturbed, and so the open office plan just won't work for you. That's where the glass partitions come in. With these, you can create those individual offices that give you the best of both worlds. The glass allows light through, so it's not being blocked by cubicle or plasterboard walls. However, it still gives the work space that they can work in without being disturbed.
Having those glass wall offices allows everyone to work together, without having to worry about being isolated. It's becoming very popular in offices, and many employees are finding them to be the best option. They certainly find it easier to be productive with them in place.
Set Your Reception Area Apart
Another way businesses are putting glass partitions to use is in their public areas. You'll see that they are often placed behind reception desks or around the entrance to the office, creating a waiting area. When used well, they look fantastic. It's certainly good for your business's image. You want to be seen as modern and unique, and glass partitions help you do that. Combined with other modern design features, you'll see that your office looks amazing.
As well as this, it's very easy to put those walls in and create the right space for you. Single glazed acoustic glass partitions Leeds offer you the chance to customize the space and make every square inch work for you. Many have found them to be essential in creating office spaces that work well for everyone there.
Create Break Rooms
 If you're starting from scratch in your office space, then you're going to need a break room set apart from the rest of the office. This is so important, as employees will need somewhere to take their breaks and relax away from the office floor. If that's a concern, then single glazed acoustic glass partitions in Leeds will work well here. They're designed to keep sound from getting out, so you can create a break room where staff can chat, but it won't bother anyone working nearby. Plus, a glass-walled break room isn't something you see in a lot of offices, so it's certainly something different.
Are you sold on single glazed acoustic glass partitions in Leeds yet? There are so many uses for them, you probably already have something in mind. Get in touch with us now, and we can help you achieve your vision.
Glass Partitions
Glass Partitions Liverpool to add space and style to any building. Click Here For More
Office Partitions
Office Partitions Liverpool creates the perfect work area exactly as you want it Click for more info.
Acoustic Partitions
Acoustic Partitions Liverpool drown out that noise to make individual work or living spaces.
Glass Office Partitions
Glass Office Partitions Liverpool let the light flow through for the perfect working space.
Switchable Glass Partitions
Switchable Glass Partitions Liverpool your choice of open or closed at the flick of a switch.