Curved Glass Partitions Leeds
TEL: 0113 347 1984
Planning an office refurb? There's so much to consider when you want to make your office space better. You want to make it more inviting, helpful staff is more productive, and of course, update the look of the office itself. If you want to do that, then curved glass partitions in Leeds are just what you need. Here are just a few reasons why you should consider them for your property.
Create A Welcoming Environment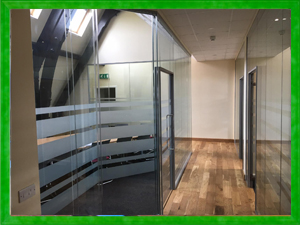 Gone are the days of offices with rows upon rows of desks, or the sea of cubicle farms. These days, business owners know they need to offer a welcoming environment to their staff. When the office is a pleasant place to be, then it's so much easier for employees to give their best every day. Of course, you want to ensure your employees have the best environment possible, so you'll be taking that into account when you're planning new construction.
Many are choosing curved glass partitions in Leeds to get what they need. With curved glass rather than walls, the office is made into an open, light, and inviting place to be. There's a lot to be said for curved glass rather than straight walls in design. The shape of them makes your office feel a lot friendlier, without those harsh angles.
Keep any visitors you have in mind too. Do you have customers come in regularly? Do you hold meetings with clients in your offices? You'll want them to get the right impression of your business, as soon as they come through the doors. With curved partitions, you'll be seen as a modern and up-to-date business which will always give the right impression.
A Better Look Than Boxed Off Rooms 
Why curved partitions rather than straight ones, or even walls? It's amazing how much the look of a straight wall affects the look of your office as a whole. Those straight walls create boxed-off rooms, that look intimidating and not all that inviting. After all, what happens when you go into them? You don't know, as you can't see inside.
Instead, you can use curved glass partitions in Leeds. These are great as they are much softer in their design, so you're not dealing with harsh corners and straight lines in your office design. On paper, it doesn't sound like a big difference, but it has to be seen to be believed.
A Real Statement In Design 
When planning out an office refurb, you may not be thinking about looks right away. After all, you're considering how the design will affect the people who work there first and foremost. That's good, but you do also need to consider how the office will look once you're done. Again, this is very important if you have clients who come by often, or if you're open to the public in any way.
If you're looking to make a real impression, then a curved glass partition is key. For example, placing them behind a reception desk, or using them to create a waiting area, will show visitors that you're modern and ready to take on any challenge. It's incredible just how much those first impressions count. If you really want to make a splash, curved glass partitions are the way to go.
Create Separate Spaces Without Sacrificing Space
The problem with creating new rooms on the office floor is that you're sacrificing some space to do so. That meeting room will eat into the main office floor, but with good planning you can ensure that everyone still has the space they need to do the best possible job.
This is where curved glass partitions Leeds come in. A glass partition has a slimmer profile than a regular wall, so they're perfect for ensuring you use as little space as possible. If you have a smaller office than most, but still need that walled-off space, a glass partition will be perfect for you.
These are just a few reasons why you should consider curved glass partitions in Leeds for your office. They look amazing and allow you to create spaces in your office perfect for meetings or more concentration-heavy work. Look into having them installed today, and see the difference they make.
Glass Partitions
Glass Partitions Leeds to add space and style to any building. Click Here For More
Office Partitions
Office Partitions Liverpool creates the perfect work area exactly as you want it Click for more info.
Acoustic Partitions
Acoustic Partitions Leeds drown out that noise to make individual work or living spaces.
Glass Office Partitions
Glass Office Partitions Leeds let the light flow through for the perfect working space.
Switchable Glass Partitions
Switchable Glass Partitions Leeds your choice of open or closed at the flick of a switch.